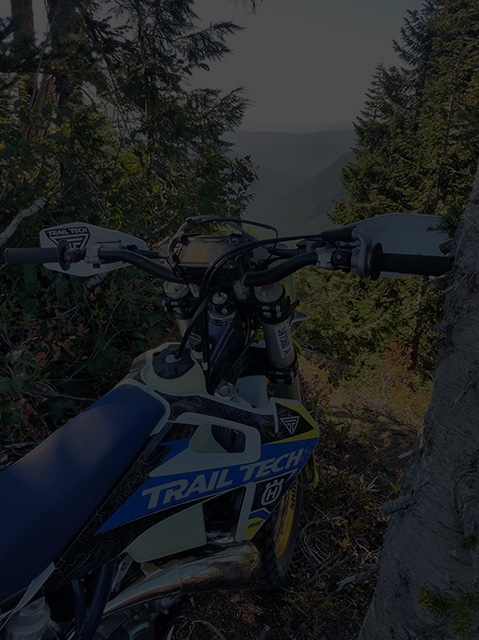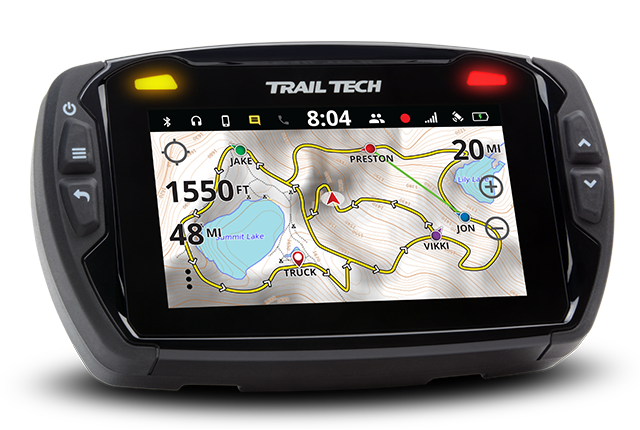 VOYAGER PRO
THE CONNECTED RIDER'S GPS
The next evolution of Trail Tech's most popular off-road GPS.
Featuring patent pending Buddy Tracking*, Bluetooth for phone and media connection, 4" color touchscreen, and full vehicle integration. See the data that matters most to you.
*Ride group visible on map. Cellular service not required.
Custom Maps
Software Update
Quick-Start Guide
User's Manual
VOYAGER PRO SCREENS AND ABILITIES OVERVIEW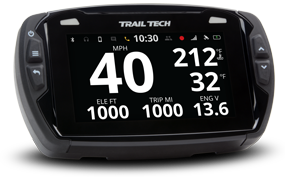 CLUSTER SCREEN
Dashboard Gauges
Get speed from the GPS or a wheel sensor. Displays speed, temperature, distance, elevation and voltage.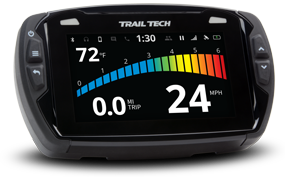 TACHBAR SCREEN
"Everybody loves the tach graph!"
The tach screen is dominated by a large animated tachometer bar graph. It also displays ambient temperature, trip distance and current speed.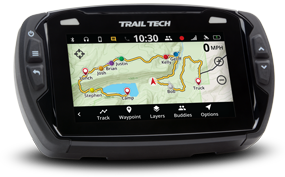 MAP SCREEN
GPS MAPS WITH BUDDY TRACKING
Color maps with topo and hillshading. Supports tracks, routes, waypoints. Plan and record entire trail systems. *Patent pending.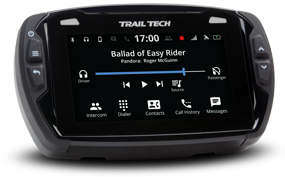 MEDIA SCREEN
BLUETOOTH INTERACTION
Control volume, song playback (phone or SD card), dialing, call history and messaging features. Compatible with Bluetooth headphones and headsets such as Lexin, Cardo and Sena.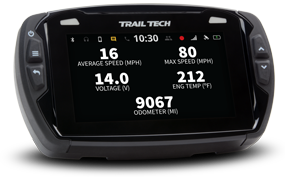 USER SCREEN
Choose your own gauges
The user screen is customizable. You can choose up to 6 gauge readouts from a long list of options. Select fewer gauges to make the remaining readouts larger.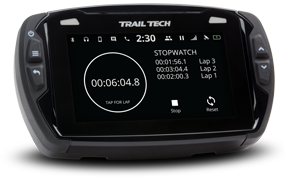 STOPWATCH SCREEN
Simple lap timer
Tap the large circle to begin counting. Tap it again to take note of the first lap off to the side and start timing a new lap.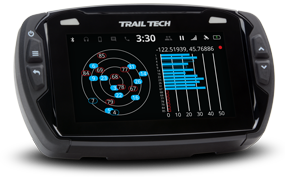 SATELLITE SCREEN
GPS satellites in range
The satellite screen displays a graph of the sky and visible GPS satellites in orbit. The graph to the side shows the relative signal strength of each satellite.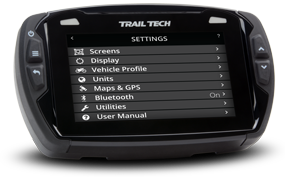 SETTINGS MENU
Detailed settings and user guide
The Settings Menu is where Voyager Pro is customized to your needs. You can access the settings menu from the main screens by pressing the menu button.
VOYAGER PRO MOUNTS AND PROTECTORS
VOYAGER PRO INSTRUCTIONS AND MANUALS
VOYAGER PRO SPECIFICATIONS
FUNCTIONS
DISPLAY
RANGE

FUNCTIONS

SPEED

DISPLAY

SPD

RANGE

0-320 KMH

FUNCTIONS

DISTANCE

DISPLAY

DST

RANGE

0-999,999 KM

FUNCTIONS

ELEVATION

DISPLAY

ELV

RANGE

9,000 METER

FUNCTIONS

ENGINE TEMP

DISPLAY

ENG

RANGE

-40-210°C

FUNCTIONS

ACCUMULATED
RUN TIME

DISPLAY

CLOCK

RANGE

0-99,999 HR

FUNCTIONS

GPS RECORD RATE

DISPLAY

TIME /
DISTANCE

RANGE

1,2,5 SEC /

1,5,10 M
POWER
DESCRIPTION

POWER

EXTERNAL POWER INPUT

DESCRIPTION

8V-16V DC

POWER

INTERNAL BATTERY

DESCRIPTION

3.7V 3100 MAH LI-ION

POWER

BATTERY LIFE
(TYPICAL USE)

DESCRIPTION

1 HOUR

POWER

BATTERY LIFE
(100% BACKLIGHT)

DESCRIPTION

45 MINUTES

POWER

BATTERY CHARGE TIME

DESCRIPTION

3-8 HOURS

POWER

CHARGE TEMP RANGE

DESCRIPTION

0°C-55°C
FEATURE
DESCRIPTION

FEATURE

ENVIRONMENTAL RATING

DESCRIPTION

IP67

FEATURE

MOUTNING PATTERN

DESCRIPTION

AMPS 30X38MM

FEATURE

EXTERNAL MEMORY

DESCRIPTION

MICROSD UP TO 64GB

FEATURE

INTERNAL MEMORY

DESCRIPTION

32GB

FEATURE

SCREEN SIZE

DESCRIPTION

480X272PX
101MM DIAGONAL
50.5MM X 89.2MM

FEATURE

PHYSICAL DIMENSIONS

DESCRIPTION

144 X 90 X 47MM

FEATURE

PHYSICAL WEIGHT

DESCRIPTION

410G

FEATURE

OPERATION TEMPERATURE

DESCRIPTION

0-60°C

FEATURE

STORAGE TEMPERATURE

DESCRIPTION

-20-80°C
COMMUNITY CREATED VOYAGER PRO VIDEOS
Chaparral goes over Voyager Pro screens and Buddy Tracking.
Watch Travis from Bike Bandit pre run the King Of Motos using the Trail tech Voyager Pro GPS system to navigate the area as well as keep tabs on bike temps etc.
Custom Installation by MotoMinded
Gnarly Routes blast the 5 Miles of Hell trail with Voyager Pro and blinding speed. Fun watch for sure.
Chaparral Motorsports does a great install video of the Voyager Pro on a KTM 500 EXC.
While Slick Rock is a pretty easy trail to follow it gets a lot harder (and slicker) when its wet out hiding the line. Voyager Pro leads Meeker Extreme to the features and back out of the trail system.
Voyager pro features – Much better screen, faster processing, vehicle integration / information, buddy tracking… by Meeker Extreme
User review by Kirk's Motorrad Shop and BMW Motorrad Club in Illinois. In conclusion, the Trail Tech Voyager Pro is an excellent GPS if you take it off road.
VOYAGER PRO BUDDY TRACKING RANGE
BUDDY TRACKING ACTIVE IN GREEN REGIONS

Buddy Tracking displays the members of your ride group on the Voyager Pro Map Screen.
Buddy Tracking uses radio signals and GPS to calculate the location of each member. In some countries, Buddy Tracking must be disabled by law.
Buddy Tracking is compatible with POLARIS RIDECOMMAND GROUP RIDE. Integrate seamlessly into Polaris ride groups.
VOYAGER PRO SOFTWARE UPDATE
SOFTWARE VERSION 1.3

We've added several new features to Voyager Pro since the release, including an array of UI and quality of life improvements, and extensive backend speed and reception updates.
Stay tuned, because we're not done yet. Voyager Pro's future looks bright, with various upgrades and customization options planned for 2021.
Trail Tech thanks you and wants you to know it is our continuing mission to create ongoing value for the powersports community.
WRITTEN REVIEWS BY THE COMMUNITY