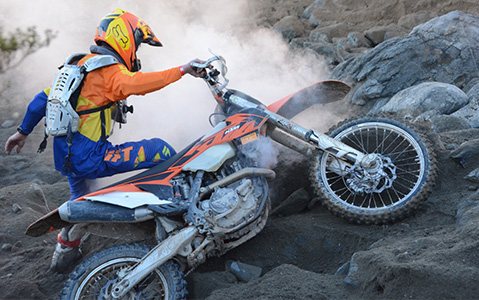 Trail Tech offers free shipping on all orders meeting these requirements:
The order is placed by a retail (end user) customer.
The order is to be shipped to a United States destination.
The product total (before tax) exceeds $300.00.
The customer selects the "Free Shipping" option during website checkout, or requests it if placing a phone order.
Free Shipping does not alter standard order processing. All online orders placed after 12:00 PM PST (noon) will be processed the next business day. Please call with urgent requests, or if time is an issue.
Trail Tech cannot guarantee all products are in stock. Some products are made to order. These products may cause a delay in shipment until they are constructed. For retail orders, they are generally manufactured by the next business day, however Trial Tech cannot guarantee a longer delay will not occur.
Open 6AM - 5PM, Monday-Friday, Pacific Standard Time
(844) 378-8143
Domestic Shipping Options:

UPS Ground
UPS 2nd Day Air
UPS Next Day Air

International Shipping Options:

UPS Worldwide Expedited
UPS Worldwide Express
UPS Worldwide Express Plus
3. DESTINATION EXCEPTIONS
UPS does not ship to APO/FPO addresses. Please contact Trail Tech for delivery options.
UPS does not ship to P.O. boxes. Please contact Trail Tech for delivery options.
For information regarding shipments to US Territories or international shipments/billing please call (844) 378-8143 or email us at sales@apexproductgroup.com.
Our goal is to process all orders within 24 hours of receipt. Orders are processed and shipped during regular business hours.
Trail Tech reserves the right to hold any order for a security review.
Orders may require additional processing time due to limited item quantities and/or discontinuation of a particular product.
4. TRACKING YOUR PACKAGES
You will receive one or more tracking numbers on the confirmation e-mail we send you when your order is shipped. This tracking number can be used to check the status of your package at the UPS website:
USPS Tracking

Shipping US postal can take up to 3-4 weeks for delivery depending on location.
Tracking information is not provided.
Trail Tech does not take responsibility for lost packages, replacement is up to the customer.
You may cancel an order at any time prior to processing at our center by calling (844) 378-8143. Unfortunately, we are not able to cancel orders once they have been shipped. Please refer to our Returns Policies for easy returns.
6. INTERNATIONAL SHIPPING
International customers must pay applicable sales tax, duties and customs charges which are determined by your local government and vary by country. Duties, taxes and/or customs fees will be an additional amount collected upon delivery of your order. We are unable to provide you with the exact amount of the charges. Your order confirmation details only the amount collected by Trail Tech, please contact your local government for specific details. By completing your order you agree to pay all applicable fees. If you refuse or return your order no international shipping charges or fees paid to local government will be refunded.
Trail Tech will accept your return for unused merchandise. You may return a purchase for a merchandise credit or exchange. Please follow the instructions below to ensure a hassle-free return.
Trail Tech will refund or credit the value of the item and any taxes you were charged. Shipping charges are nonrefundable. To receive a refund, the original packing invoice should accompany your return. Used items may not be accepted. If there is any question, please call (844) 378-8143 for assistance. Our customer support team will be happy to help you.
Contact our customer support team at (844) 378-8143 for assistance with your exchanges and replacements of Trail Tech items purchased through our website or received as gifts. For exchanges of missent orders or damaged or defective merchandise, we will credit you for the returned item upon receipt and send you your replacement with no additional shipping charges.
RETURNS TO THE TRAIL TECH PROCESSING CENTER
All returns must have an RMA number. Please contact Trail Tech at (844) 378-8143 or email orders@apexproductgroup.com. You may ship returns to Trail Tech to the address listed below. Trail Tech will credit you for the returned item upon receipt. Used items may not be accepted. If there is any question, please call (844) 378-8143 for assistance. Please follow the steps below to complete your return:
Please circle the item you wish to return on the original packing invoice.
Write the reason for the return on the invoice.
Write your preferred day-time phone number on the invoice. Trail Tech may contact you 6:00-5:00 PST excluding holidays.
Make a copy of the invoice for your records. Include the original invoice with the item you are returning.
Pack your return securely and write the RMA number on all 4 sides of the package.
To return your package, take the package to any UPS authorized shipping outlet. Call 1-800-PICK-UPS for a location near you.
Should you have any questions or comments, please call Trail Tech at (844) 378-8143. Our customer support team will be happy to assist you.
You may also mail returns via the US Postal Service, FedEX, or DHL to the address below. We recommend that you insure the package prior to shipment. Please enclose your original packing invoice to help us expedite your return.
Trail Tech
Returns Processing Center
1123 Sherborn St Bldg 5
Corona, CA 92879
THE WARRANTY PERIOD BEGINS ON THE DATE OF PURCHASE.
Do not ship Trail Tech a product for warranty service without a Return Merchandise Authorization number. Contact the customer service team at sales@apexproductgroup.com or (844) 378-8143 to receive an RMA number.
Trail Tech stands behind our products and our customers' satisfaction. We warrant that our products will be free from defects or failure due to workmanship, material, or normal use for the stated warranty period. If the product is covered under warranty, you may return it at your expense; Trail Tech will repair or replace and return the defective product without cost to you. Trail Tech will return the item by UPS standard ground shipping and cannot ship to P.O. Boxes. Extra charges associated with non-standard shipping will be the responsibility of the customer. International customers may contact Trail Tech for more information on how to obtain warranty support in your country.
All Trail Tech products are warranted for one year from date of purchase against manufacturing defects, with the exception of following products: Kickstands, Aluminum Parts, Radiator Guards and LED Lights come with our *Limited Lifetime Warranty. Contact customer service for warranty return information. Trail Tech will replace the item, provide a refund, or issue credit to your account.
If an item is received damaged, please contact customer service immediately.
If within the first 30 days after purchase, you are not satisfied with your product for any reason, Trail Tech will issue a full refund for the price of the product. Merchandise must be returned in unused condition in the original packaging with all parts included. Items must be sent prepaid. Contact customer service for return details.
A Trail Tech Return Goods Authorization number must accompany all returns. Please contact customer service to obtain this number.
Shortage claims against any purchase order will be honored only if reported within seventy-two (72) hours of receipt of merchandise
Packages sent that do not meet the above guidelines will be refused and returned unopened
The warranty will not cover any defects or damage resulting from misuse, abuse, or negligence such as but not limited to exposing the product to impact, force, high-pressure liquid, sand, chemicals, gasoline, salt, UV radiation, excessive vibration, or servicing by an unauthorized technician. The warranty will not cover use or maintenance not conforming to the product's instructions, or any modification made to the product. The maximum liability of Trail Tech is the product purchase price.
*Limited Lifetime Warranty refers to the original purchaser.
*Warranty is non-transferable. Must return damaged product to Trail Tech along with a copy of the original purchase receipt.
Trail Tech
Warranty Returns Processing
1123 Sherborn St Bldg 5
Corona, CA 92879
ALL PAYMENT INFORMATION, INCLUDING CREDIT CARD NUMBERS, ARE SECURED USING ENCRYPTION TECHNOLOGY.
Personal information exchanged between your web browser and our server is encrypted. Trailtech.net uses Secure Sockets Layer (SSL) technology to provide you with the safest, most secure shopping experience possible. SSL technology enables encryption (scrambling) of sensitive information, including passwords and credit card numbers, during your online transactions. All of the forms on our site are secured with SSL technology so your personal information stays safe and out of malicious hands.
Have a question about Trail Tech products or need help troubleshooting an issue?
Contact the Trail Tech support staff for professional help.
Live Tech Support from 6:00 AM - 5:00 PM, Monday-Friday, Pacific Standard Time